News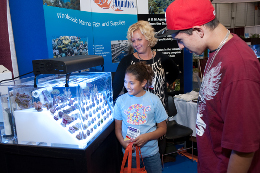 Aquarist Position
Work with live marine animals from all areas of the world.

Gain firsthand experience in all aspects of marine husbandry.


Junior Aquarist - Part Time Or FULL TIME for the right individual

Part Time - Hourly
Full Time - Hourly plus benefits, 401K, holiday pay, vacation, health
(4 positions open - 2 for mornings and 2 for afternoons) . Overview Hands position that involves working in our fish room. You will have the chance to work with and learn about live marine animals. Duties include but are not limited to: feeding marine fish and invertebrates, water quality testing, tank cleaning, filtration maintenance, cleaning aquariums, opening incoming shipments and assisting in packing shipments.
Marine aquatic knowledge is an advantage, but full in-house training will be given. Must have strong work ethic, able to work independently and meet deadlines. Good communication skills and able to lift 40 lb. boxes.
We are located about 15 minutes from campus.
Hours (2 shifts available) Mon-Friday 8 am - 12 noon - morning position (20 hours a week)
Mon-Thursday 1pm - 5pm - afternoon position (16 hours a week)
Both shifts may require 1-2 evenings per week - approx. 6-9 pm for assistance with opening incoming shipments
Email
bbackus@amaquatics.com
for more information.