News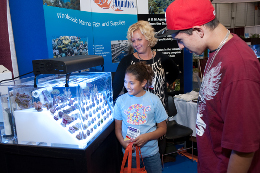 Aquarist Position
Work with live marine animals from all areas of the world.

Gain firsthand experience in all aspects of marine husbandry.

Junior Aquarist - Part Time Or FULL TIME for the right individual
(4 positions open - 2 for mornings and 2 for afternoons) . Overview Hands position that involves working in our fish room. You will have the chance to work with and learn about live marine animals. Duties include but are not limited to: feeding marine fish and invertebrates, water quality testing, tank cleaning, filtration maintenance, cleaning aquariums, opening incoming shipments and assisting in packing shipments.

Marine aquatic knowledge is an advantage, but full in-house training will be given. Must have strong work ethic, able to work independently and meet deadlines. Good communication skills and able to lift 40 lb. boxes.

We are located about 15 minutes from campus.
Hours (2 shifts available) Mon-Friday 8 am - 12 noon - morning position (20 hours a week)
Mon-Thursday 1pm - 5pm - afternoon position (16 hours a week)
Both shifts may require 1-2 evenings per week - approx. 6-9 pm for assistance with opening incoming shipments

Email bill@amaquatics.com for more information.
Accounts Payable Clerk / Sales Assistant
Accounts Payable Clerk / Sales Assistant – full time position
A&M Aquatics is looking for a new team member. The qualified candidate will be hired on a temporary basis with possible full time hire based upon ability to perform. This is a full time position for a well-established local small business. Hours 8-5 Monday – Friday.
The candidate needs to have strong communication, customer service and organizational skills. Proficiency with Microsoft Office applications is expected; familiarity with additional software programs is valued. Duties include: • coding and entering invoices • Entering and processing sales orders and pull sheets, invoicing • Researching and resolving accounts payable or accounts receivable issues with customers or vendors
Job Requirements
High school graduate, 2 or 4 year college graduate preferred.

Excellent telephone skills and computer knowledge
Demonstrated proficiency composing written communications.

High energy level, comfortable performing multifaceted projects in conjunction with day to-day activities.

Resourceful, well organized, highly dependable, efficient and detail oriented.

High-accuracy data-entry experience required

3

-5 years previous job experience with customer service or sales support experience.
Starting Wage – 12.00 -13.00 an hour based on experience. This position could eventually evolve into a sales position for the right candidate.
Full Time Benefits for those who join our team include
· 401 k with company match
· Paid Holidays
· Vacation Time
Apply by emailing a resume to bill@amaquatics.com .